Floral & Herbal Wreath Making Workshop
June 8 @ 4:30 pm

-

6:30 pm
THIS EVENT IS BEING POSTPONED UNTIL JULY OR AUGUST. WE WILL UPDATE THE LISTING WHEN WE HAVE A DATE!
Spend some creative, relaxing time and engage in making a lovely, custom floral and herbal wreath with other crafty folks!
Create an 18" wreath on a grapevine base, using a variety of organic flowers and decorative herbs.
Wreath translated literally means, "a thing bound around," from the Greek word Diadema. Laurel wreaths were used to crown the victors of the Greco-Roman Olympic Games. Wreath making dates back to ancient Greece & Rome (and likely before that!), where members of society would make wreaths using fresh tree leaves, twigs, small fruits, and flowers. These were worn as headdresses and represented the occupation, rank, and/or achievements of the wearer.
Today, wreaths are made for holidays, weddings, anniversaries, rituals, and just about any occasion you can think of…or just as a thing of beauty to hang on your wall for all to appreciate.
Some of the materials included in our Wreath Making Workshop include lavender, purple sage, Nigella, Poppy pods, Greek oregano and culinary oregano, rosebuds, cedar branches, rosemary, and some other specialty florals. All materials are included in the class.
Class size limited to 6. For more information or to reserve your space, you can call 209-296-2120 with payment, or come in to Mother Lode Exchange.

Meet Your Hosts:
Mary Lou Saso learned wreath making from her mother, Virginia, of the renowned Saso Herb Gardens outside San Jose, California. Along with her floral handiwork, Mary Lou is an avid gardener and creates a treasure trove of beautiful crafts, including jewelry, prayer flags and pocket altars.
Su Lukasha, owner of Herbal Med Rx, makes herbal and floral health and beauty products, and grows over 40 medicinal herbs and a variety of flowers, veggies, fruits and such with her partner Michael at their Ranch Runamuck property located in the Sierra Nevada foothills.
Fee: $35 includes all activities, supplies, and you take home the wreath you make.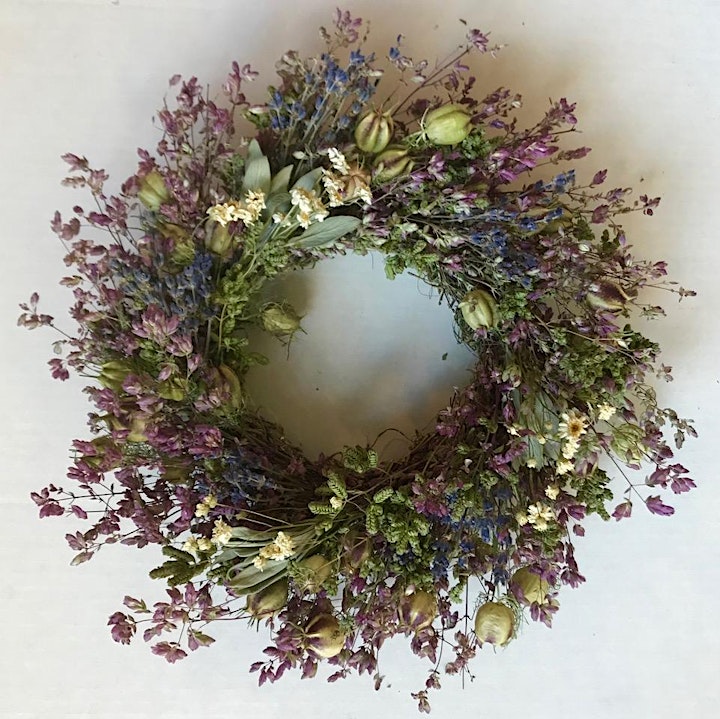 Reader Interactions